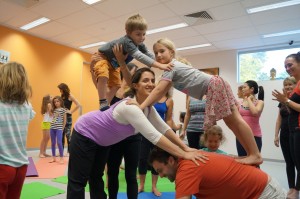 It is about a yoga parents-children where babies, from 4 to 10 years, and those parents have a good time across different positions of yoga inspired by the animal, plant and mineral world and a bit of acroyoga.They are also going to play financial years of breathing and relaxation adapted according to the groups of age through the inventive and invigorating workshops! To play yoga together reinforces confidential link and participation in relation parent-child; the child feels in security and entrusting to discover the world in the room. The time is forgotten. The instant of the workshop becomes a parenthesis favoured to deepen mutual discovery and reinforce existent very strong links between parents and children.
Play together, yes, to narrow links and distribution, support each other mutually, accept and give the energy of other one, be listening to other one, make trust and give its trust. The parent accompanies the child in her evolution, his motivity, his equilibrium, his concentration.
Offered Yoga is inventive, play and affectionate: it alternates dynamic instants and calm time. He allows to learn to canalize her energy: to relax and make more dynamic, become suppler and invigorate in harmony.
He can be particularly advantageous for the children and the parents to make positions together, what allows to go beyond roles and daily models and to link up more profoundly.
The workshop parent-child is a peculiarity of yoga children, it is a yoga which is made for two. Either as part of a group, or in the individual frame. This is a joyful moment sparkling spicy rich in sharing love and light!
The adult retorts session with the feeling that besides having been in charge of his child and weaved a link with him, he could also look after himself and discover new positions. The child, not only happy to have shared this instant with the parent, had huge privilege to see it adopting strange positions, lengthened or in 4 legs Beyond contact and Of game which it generates, this time allows him to arrest its own body freely.